See You Next Year!
2022
JWF
Virtual Festival
Thank you for 2021!

Date: Feb 20th & 21st, 2021
Where: ONLINE
(*Streaming from Tokyo)
JWF2021 Selections & Winners
Programmes
Filter
THANK YOU
Arrow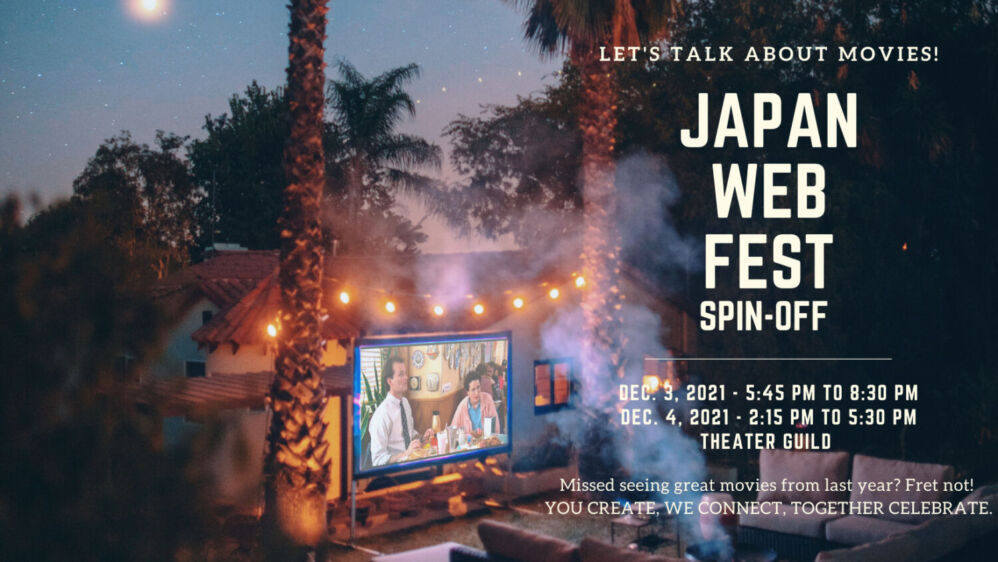 Jury
Profile


Marlene Giraud
宮本 万里
Producer / Performer
プロデューサー/パフォーマー

Born and raised in Kumamoto. Based in Japan & NYC.
In 2007年, she established the English Drama Club in her hometown to organize a workshop to teach English using the acting method. In 2009 she moved to NYC, finished a full-time course at HB Studio after three years. She has organized many cultural events in the city, as well as Improv/Performance workshops for second language learners in over 40 places both in Japan and outside of Japan. Now she actively working on performance as an actor and production as producer/coordinator.
熊本県合志市出身。ニューヨークと日本で活動中。2007年に熊本英語劇サークル(現・Creative Box)を創立、講師を招待してのワークショップを開催。2009年よりニューヨーク市へ移住、 HBスタジオ にて3年間演劇を学ぶ。ニューヨークや日本にてインプロ(即興演劇)やシアターゲーム等を用いて日本語/英語を学ぶワークショップを、アメリカ・韓国などお合わせて延べ国内外40箇所以上、通算100回以上を行う。現在は、俳優活動、殺陣のパフォーマンス他に、制作活動も行っている。
CLOSE
Profile


Pier-Luc Cossette
春日 弘
Producer / Actor / Film Festival Planner
プロデューサー / 役者 / 映画祭プランナー

Born in Tokushima, Japan. Now inhabiting in Sydney, Australia.
Started his film industry career as an extra and stepped into producing more behind the camera as he has extensive sales and business development experience. Invited to Metro Screen Breaks Funding Hot House Session to learn more about filmmaking and made a short film called "RICEBALLS", which screened over 40 film fests including Academy accredited film fest and received many awards such as The Best of The Fest, etc. Lately, he extended his coverage to film fest judge of international film fests and currently producing 2 brand-new film fests from scratch.
徳島市出身。豪国シドニー在住。
シドニーで役者として映画産業に関わったことを機に、それまでの営業職としての経験を活かせる製作側へと軸足を移す。NSW州政府映画製作教育機関"メトロスクリーン"にてプロデューサー教育を受け製作した短編、「RICEBALLS」は、アカデミー認定映画祭を始め、世界中で上映、最優秀賞を含め数多く受賞。以降、長編作品の国際共同製作に向けて鋭意準備中。現在はもう一歩職域を広げ、国際映画祭の審査員を含む運営に参画し、2つの国際映画祭の立ち上げに参加している。
CLOSE
Profile


Niccolò Miranda
太田黒 哲
Producer / Cinematographer
プロデューサー / シネマトグラファー

Born in Yamaga City Kumamoto.
From 2007, start working as an assistant of Yoko Narahashi who is a Hollywood Casting Director in Japan. Beside that, shoot many music videos and short film as a cinematographer in a name of AGRO CREATIVE. From 2015, start producing short films. "Dream of Passion" "Hikari wo Tomosu Saki" and etc. In 2016, Kumamoto had a big earthquake and Akira preside "Kumamoto Utsuwa Reborn Project". This project is saving pottery artists whose products were broken by the earthquake, using Japanese
traditional mending technique called "Kintsugi". Akira designed and produced the Kintsugi products.
熊本県山鹿市出身。
2007年から数々の海外映画作品のキャスティングに関わる。キャスティングディレクター奈良橋陽子のアシスタントとして仕事をする傍ら、シネマトグラファーとしても活躍。多数のMVや短編映画をAGROCREATIVE名義で撮影する。2015年からはプロデューサーとしての活動も始動。短編映画『Dream of Passion」を始め、田嶌直子監督の「灯りのともす先」などの短編映画をプロデュース。2016年に起こった熊本地震の折には地元の支援事業としてふるさと納税の最大手トラストバンクと石川県輪島市と手を結び、「熊本器リボーンプロジェクト」を主催。復興のシンボルとして金継ぎの器を製作するなど、クリエイターとして多角的な活動を行っている。
CLOSE
Rule to apply
Categories
Web Series: Narrative / ウェブシリーズ:ナラティヴ

Web Series: Animation / ウェブシリーズ:アニメーション

Pilot: Any category / パイロット:全カテゴリー

Web Jidaigeki / ウェブ時代劇

Music Video / ミュージックビデオ

Short Film: Narrative (less than 30mim) / 短編映画:ナラティヴ (30分以下)

Short Film: Animation (less than 30mim) / 短編映画:アニメーション (30分以下)

Short Documentary (less than 30mim) / 短編映画:ドキュメンタリー (30分以下)

Feature Documentary / 長編ドキュメンタリー

Smartphone Film(Shot by smartphone only, less than 15 minutes) / スマホ映画 (15分以下)
Message
Profile
Founder / Director
創立者 / 代表
Mari Miyamoto
宮本 万里
Producer / Performer
プロデューサー/パフォーマー

As my past experiences with the wonderful and supportive communities at other web festivals, I am aspiring that Japan Web Fest will be one of your platforms where you can come back like your home, and expand your success in the efforts to spread your artworks. Let's celebrate your remarkable creativities together, and get connected with other talented creators/audiences at the first-ever web fest in Japan! Arigato!

・・・・・・・

過去に、私自身、世界のウェブ映画祭で経験したように、Japan Web Fest映画祭は、皆さんが故郷のように帰ることができ、自分の作品を広める努力をして成功を収めることができるプラットフォームのひとつになると確信しています。日本初のウェブ映画祭で、皆さんの素晴らしいクリエイティビティを讃え、他の才能あるクリエイターやオーディエンスと交流しましょう。ありがとうございます。
CLOSE
Profile
Co-Founder
Engagement Director
共同創設者 / エンゲージメントディレクター
Hiroshi Kasuga
春日 弘
Producer / Actor / Film Festival Planner
プロデューサー / 役者 / 映画祭プランナー

If you have a story to tell and a huge passion to make it into film, it's a great place to start with. We do the rest. We have a vertical end-to-end platform with skilled community, experienced mentors and JWF to screen it to your audience. Jump in anytime, just like I did at the age of 45 as an extra. Never too late...

・・・・・・・・

伝えたいストーリーがあり、それを映画にしたいという大きな情熱があれば、まずはここから始めるのがいいでしょう!あとは私たちにお任せください。私たちは、熟練したコミュニティ、経験豊富なメンター、JWFを備えた垂直方向のエンド・トゥー・エンドのプラットフォームを持っており、あなたの観客に向けて上映します。私が45歳のときにエキストラとして映画に参加したように、どんな年齢でもぜひ参加してください。決して遅すぎるということはありません..!
CLOSE
Profile
Programming Manager
プログラミングマネージャー
Elahe Nassr
エラへ ナスル
Screenwriter / Director / Photographer / English Instructor
脚本家 / 監督 / 写真家 / 英語講師

I should say storytelling has enriched my life a lot. Stories are reflection of our lives seen through any medium, films, plays, books, photos, music....
JWF is for sure a beginning of so many stories to come and I can't wait to hear yours.

・・・・・・・・・

ストーリーテーリングは、様々な方法で私の人生を豊かにしました。映画や劇、本、写真、音楽などを通して語られる物語は、いろいろな視点から私たちの人生を反映しています。
JWFは、いろいろなストーリーの始発点であり、聞くのが大変楽しみです。

CLOSE
Profile
PR Assistant
PRアシスタント
Rika Nishikawa
西河 里香
Director / Assitant director / Production manager
ディレクター/アシスタントディレクター/プロダクションマネージャー

I would like to give respect and praise to talented creators around the world, and to give movie fans the opportunity to meet wonderful works. And I would like to play a part in expanding the community of the web movies to the world. I hope this JWF will be a step towards a bright future for creators.

・・・・・・・・・

世界中の才能あるクリエイターにリスペクトと称賛を、世界中の映画ファンに素晴らしい作品と出会うチャンスを提供したい。そして、ウェブムービーというコミュニティを世界に拡大していくその一端を担いたい。このJWFがクリエイターたちの輝く未来への一歩となることを願っています。

CLOSE